Regular price
Rs.1,900.00 PKR
Regular price
Rs.2,300.00 PKR
Sale price
Rs.1,900.00 PKR
Unit price
per
Sale
Sold out
Introducing the 🌟 EMS Portable Foot Massager Mat  – Your Ultimate Relaxation Companion! 
👣 Pamper Your Feet Anywhere, Anytime! 
Experience heavenly relaxation with our EMS Portable Foot Massager Mat. It's like having a personal masseuse at your beck and call. 
💆‍♀️ Key Features 
✨ Dynamic EMS Technology: Enjoy the magic of Electronic Muscle Stimulation that gently massages your feet, relieving stress and fatigue. 
🌈 Multiple Massage Modes: With a variety of modes and intensity levels, customize your massage experience to suit your preferences. 
🎵 Soothing Music Integration: Let your mind drift away with built-in music options. Achieve zen-like relaxation as you massage your feet. 
🧘‍♀️ Compact & Portable: Carry your foot spa wherever you go! Whether at home, in the office, or during travel, relax anytime, anywhere. 
📈 Health Benefits 
🦶 Improves Circulation: Enhance blood flow for healthier feet. Feel refreshed and energized every day.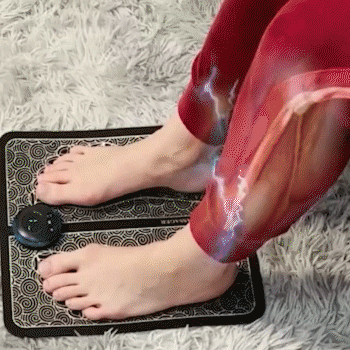 😴 Relieves Stress: Say goodbye to tension and hello to tranquility. A relaxed body leads to a calm mind. 
💤 Aids Sleep: Get better sleep quality after a soothing foot massage. Say farewell to restless nights. 
🛒 Why Choose Us? 
Our EMS Portable Foot Massager Mat is your ticket to ultimate relaxation and better well-being. Don't miss out on this opportunity to take care of your feet like never before! 
🔥 Grab Yours Today and Step into a World of Pure Relaxation! 
Treat your feet, elevate your mood, and rejuvenate your body. Add the EMS Portable Foot Massager Mat to your cart now! 
Share
View full details